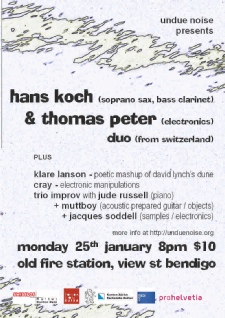 Monday 25th January 2016 8pm Old Fire Station Bendigo $10
DUO HANS KOCH / THOMAS PETER (Switzerland)
Hans Koch – Soprano-Saxophon / Bassclarinette
Thomas Peter - amplified objects / live-electronics
This duo from Switzerland has been performing since 2013 and combines their wide experiences in the field of Improvisation, Jazz, Contemporary Music and Electronic Music.The collaboration expresses there music in a complex and versatile sound field. There goal is not communicate in a direct dialog, but rather to strobe a common sound space, which allows a multilayered musical result. Due to Hans Koch`s immense sound-repertoire and Thomas Peter live produced electro-acoustic sound-creations, they produces noisy, heterogene and interwoven soundmoments, interrupted by calm, harmonic and carving sound passages.
Hans Koch
Hans Koch has quit his career as a recognized classical clarinetist to become one of the most innovative improvising reed-players in Europe. He has been working with everyone from Cecil Taylor to Fred Frith since the eighties. As a composer he has shaped the sound of Koch-Schütz-Studer since the beginning as well as working for radio-plays and film. Since the nineties he has been working with electronics as an extension of the saxes/clarinets as well as with sampling/sequencing/Laptop. As a reed-player he is always working on his very own vocabulary and sound, which makes him a very unique voice on the actual scene.
Thomas Peter
Thomas Peter is a musician and composer, based in Zürich, Switzerland. He is active in the broad field between composing contemporary music, improvised electronic music and sound installations. His live-performances deal either with the acoustic result of tactile actions or with the physical and spatial display of electronic sound objects. He has performed many concerts as solo artist and as an interpreter of contemporary music in Europe, Asia, North- and South-America. Since 2005 he plays in several improv-formations (e.g. with Hans Koch), he is member of the ensemble Phoenix Basel and the insub meta orchestra - a huge improv-orchestra. He composed music for several swiss ensemble and his first solo album was released 2009 on the label 'domizil'.
Thomas Peter studied audiodesign and improvisation at the Hochschule für Musik in Basel, Switzerland.
www.tpeter.ch
PLUS
Klare Lanson
Klare will perform a a semi-improvised response to David Lynch and his film Dune. reworking a short work performed at the 2015 Queensland Poetry Festival: The work deals with the beauty of failure, loss of control and the poetic erasure of language.. Klare Lanson is a poet and sound artist who develops collaborative performance projects about technology, memory and environment. Her sound work stems from manipulated field recordings, interviews, sounds and bytes found in the everyday. She has been performing for over 15 years and has recently collaborated with the Clocked Out Duo, Jacques Soddell and Andree Cozens on the large scale immersive performance #wanderingcloud and with Damian Mason for Commute, a piece based on the translation of GPS tracking data into sound.
Cray
CRAY is Ross Healy. Ross has been heavily involved with electronic music since the early 90's. Releasing recordings for labels in Australia, Germany, France, United Kingdom, Ireland and the U.S under many different names (This Digital Ocean, Amnesia, Siko Spunji, Roland Oberheim, Ryou Oonishi, 56k and Cray) covering many styles of electronic music, Avant improv electronics, Experimental computer music, Noise, Industrial, Techno, Ambient, IDM and Drum n Bass. As well as his lust for electronic music making , Ross has also co-run Global Warming (popular club in the late 90's), written for Digital magazine, remixed (demixed) artists work, designed web page sounds, had his music used in TV shows and commercials and has performed live around the globe. Ross is also the founding member of VICMOD, they teach people how to build (solder electronic) modular synthesisers.
TRIO Jude Russell / Muttboy / Jacques Soddell
Jude Russell is a Castlemaine pianist whose work ranges from the atmospheric improv of Atmos Ensemble to the wild free jazz of the Kris Wanders group. / Muttboy is Rex Hardjadibrata who plays noise, glitch, microsound, minimal, electronic and experimental... And on this occasion will play acoustic prepared guitar. / Jacques Soddell is Bendigo based sound artist, electroacoustic composer, sound designer and video artist.