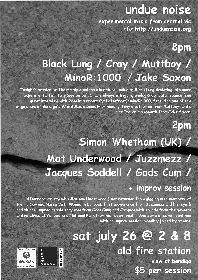 saturday july 26 old fire station, bendigo 2pm & 8pm
undue noise - experimental music from central vic
sat july 26 @ 2pm & 8pm
old fire station view st bendigo
$5 per session
8pm
Black Lung / Cray / Muttboy / MinoR:1000 / Jake Saxon
Evening session will be mainly electronic in nature, including Black Lung deviating into more experimental territory (see below); Cray's always intriguing analog & computer sounds (see great interview with Ross in a recent Cyclic Defrost); minoR:1000, featuring one of the originators of Bendigo's Wierd Music Society; minimal glitchy electronica from Muttboy; and a nice Italian monosynth from Jake Saxon.
2pm
Simon Whetham / Mathew Underwood / Juzzmezz / Jacques Soddell / Gods Cum / + improv session
Afternoon session with UK field recordist / sound artist Simon Whetham, Mathew Underwood (just returned from gigging with members of Henry Cow and Nurse With Wound in Europe); first appearance from Juzzmezz and his synth and things; unpredictable zanyness from Gods Cum; and Jacques with sounds from the geysers and relatives at Yellowstone National Park from his recent visit.... And some of us will continue with an improv session, possibly joined by others.
More notes on Black Lung's special set plus new release
Internationally recognised sound-artist D. Thrussell will do a special one-off performance (as Black Lung) at Undue Noise. Globally renowned for subversive beats and intense atmospheres, Thrussell will deliver a unique set of post-musical, arrhythmic soundscapes with visual accompaniment. New album, single, video etc below: But this performance will be something different again.
To celebrate the release of the new Black Lung album "The Great Golden Goal", a free digital single has been released. For your free download go here: https://ant-zen.bandcamp.com/album/the-business-of-selling
The download will be available for a limited time only.
Already considered a classic of motivational/idealogical electro, the new Black Lung album "The Great Golden Goal" is out now.
Twelve motivational pieces specifically designed for workspace, gym, competition cycling, internal value conditioning and reflexive behavior modification events.
the great golden goal.
the sale.
the highest expression and most pure distillation of kinetic energy and evolved physical relationships.
the logical end-point of all human endeavor.
commerce. exchange. intercourse. innovation. participation. reward.
The first Black Lung album since 2010's "The Soul Consumer" sees the D. Thrussell project return with a sleek, analogue and intriguing sound. Timeless yet progressive. Bold yet sophisticated.
Available now on Spotify: http://open.spotify.com/album/6jjTF67rAHvKOqv4xDDtZS
Video of the first single: https://www.youtube.com/watch?v=-tSiHezMwz4
You can order the album here- https://mailorder.ant-zen.com/product/id/2400
More information: http://www.ant-zen.com/act/act314.htm