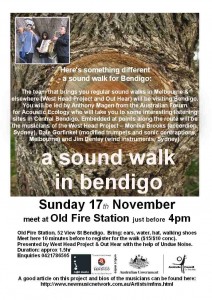 A sound walk for Bendigo
(West Head Project & Out Hear)
Sunday Nov 17, 4pm
Start at Old Fire Station, Bendigo.
Meet here 10 minutes before to register for the walk ($15/$10 conc).
Presented by West Head Project & Out Hear with the help of Undue Noise.
Duration: approx 1.5 hours
Bring: ears, water, hat, walking shoes
Enquiries 0421786595
Here's something different – a sound walk for Bendigo:
The team that brings you regular sound walks in Melbourne & elsewhere (West Head Project and Out Hear) will be visiting Bendigo. You will be led by Anthony Magen from the Australian Forum for Acoustic Ecology who will take you to some interesting listening sites in Central Bendigo. Embedded at points along the route will be the musicians of the West Head Project – Monika Brooks (accordion, Sydney), Dale Gorfinkel (modified trumpets and sonic contraptions, Melbourne) and Jim Denley (wind instruments, Sydney). Hear Bendigo like you've never heard it before.
For over a decade, the musicians of West Head Project have been encouraging a culture of listening and making music outdoors. These events help to raise awareness of different acoustic ecologies and provide a relaxed context for enjoying music.
The group takes it's name from West Head in Ku-ring-gai Chase National Park, Sydney, where their initial events took place. Since then they have presented events around the country including on top of Mt Wellington for Mona Foma in Hobart, and at the recent Balance-Unbalance and Floating Lands festival in Noosa. Their CD, A Closely Woven Fabrik, documents an event on Maria Island off the east coast of Tasmania where they were artists-in-residence for the Ten Days on the Island Festival in 2009.
A good article on this project and bios of the musicians can be found here: http://www.newmusicnetwork.com.au/Artists/mfms.html
This project has been supported by the Australia Council for the Arts. Undue Noise Inc is assisted by the City of Greater Bendigo.