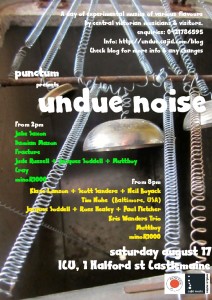 Punctum presents Undue Noise
Sat 17th August at 2pm and 8pm
ICU @ 1 Halford St Castlemaine
Undue Noise and Punctum are holding a day of experimental music of many colours (free jazz, improv, beats, computer music, synths, noise & more), featuring mainly Central Victorian musicians
Probable order of playing (TBC)
Evening 8pm
Klare Lanson / Scott Sanders / Neil Boyack (Castlemaine/Newstead, words/sounds);
Tim Nohe (Baltimore, USA, regular visitor to central vic finally gets a chance to play), (laptop);
Muttboy (Castlemaine based textures / noise / beats);
Jacques Soddell (laptop) / Ross Healy (modular synth) / Paul Fletcher (SoundSink);
Kris Wanders Quartet (Kris, now resident in Maryborough) is one of the figures the early European free jazz scene) – with Dave Brown (bass) Jude Russell (keyboard) and Matt Arrowsmith (drums)
Afternoon 2pm
Jake Saxon (Castlemaine based Jake Martin debut performance with an American drone synth, an English single-oscillator sequencer, a delay and reverb pedal;
Damian Mason (Castlemaine, synths;
Fracture (Steve Marton (sax) / Vincent Giles (laptop+) (Bendigo/Melbourne);
Jude Russell (keyboard) / Muttboy (prepared guitar) / Jacques Soddell (lapotop) (Castlemaine/Bendigo;
Cray (Kyneton based electronics (modular synth/laptop). Ross Healy also runs Vicmod Records;
minoR1000 (Matt Hall was one of the founders of the Weird Music Society in Bendigo in the late 1990s. He's back in Central Vic. Ending the session with some bass heavy stuff)
More Info:
Tim Nohe Timothy Nohe is an artist, composer and educator engaging traditional and electronic media in civic life and public places. He has presented his work in a range of venues: ISEA: Paris and the Baltic Sea; Ars Electronica; the Danish Institute of Electro-Acoustic Music; Museu da Imagem e do Som, São Paulo; the Centre for Contemporary Arts, Glasgow; the Irish Museum of Modern Art; the Museum of Contemporary Art, Sydney; the Oxfringe Festival, Oxford; the Smithsonian Institution, Washington, D.C.; and the Museum of Jewish Heritage, New York. In 2012 he screened his HD animation *At the Walls of the Anthropocene* at Fed Square in Melbourne, Victoria in 2012. He was the recipient of a 2006 Fulbright Senior Scholar Award, and was awarded the Australian – American Fulbright Commission's 2011 Fulbright Alumni Initiative Grant. Nohe has been the recipient of five Maryland State Arts Council Awards. A 2011 National Endowment for the Arts and William G. Baker Fund grant supported *My Station North: Sounds Surrounding Us*. Nohe is a tenured Professor and Founding Director of the Center for Innovation, Research and Creativity in the Arts [CIRCA] at UMBC. He is an Artist-in-Residence at the Centre for Creative Arts, and was granted the rank of Adjunct Professor at La Trobe University.
Kris Wanders http://www.kris-wanders.com/
Paul Fletcher http://www.digitalcompost.net
Klare Lanson http://klarelanson.net/#
Jacques Soddell http://cajid.com/jacques-soddell-cv.html
Cray/Ross Healy http://www.vicmod.net/artists/cray/cray.html
Muttboy/Rex Hardjadibrata runs label Sound Crucible http://soundcrucible.com/
Fracture http://archive.org/details/ca340_f
Jake Saxon soundcloud.com/harlequin Jake is a Castlemaine based live sound engineer whose main
practice is at the Melbourne Recital Centre.In the past he has worked sound for circus, musical theatre,
festivals and radio production. Jake's passion for music began
with DJing at outdoor festivals then urban venues. In recent
years he has built his own studio based around analog synthesis.
A love of house, techno, and disco music has led Jake to explore
it's production and composition. The exploration of sound synthesis
leads to his form 'Harmonic Noise. Jake will be debuting live with
an American drone synth, an English single-oscillator sequencer, a
delay and reverb pedal.