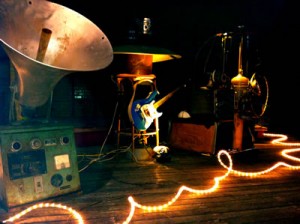 Summer in the Park
Sat Jan 19 FREE
The Conservatory, Rosalind Park Bendigo.
Undue Noise artists and friends take over the Conservatory in Rosalind Park for an evening of innovative sound art, sound sculpture and experimental film when the sun sets. Thanks to the City of Greater Bendigo for giving us the opportunity to present this.
In order of playing:
Muttboy
Rex Hardjadibrata has recently arrived in Central Vic and works with guitar, laptop & electronics and runs the Sound Crucible label. http://soundcrucible.com/
Cray
Ross Healy's solo project. Tonight he will perform on the classic Buchla synthesiser. Another recent arrival in Central Vic, Ross also organises the Vicmod Ensemble of musicians who build their own synths and runs music label Vicmod Records http://www.vicmod.net/
(Muttboy and Cray's solo sets will "crossover" with a duo improv.)
Candlesnuffer
David Brown is Australia's premier exponent of "prepared" guitar. As Candlesnuffer he contorts his guitar with electronic devices, turning sounds inside out, shortening scales, reconstituting harmonic information, bringing forth the wrong side of noise. His first solo appearance in Bendigo – He's previously performed here with other musicians. http://www.candlesnuffer.org/
Rod Cooper
For two decades Rod has constructed metallic instruments that become sculptural objects of sound.
He'll bring one of them, probably The Vessel. http://www.youtube.com/watch?v=eDtjCCtqjqU
Jacques Soddell
Bendigo based acousmatic composer specialises in transforming field recordings of eveyday sounds into abstract sound compositions. He does the same to images, which will be projected onto Conservatory walls. He runs Australian sound art label cajid media http://cajid.com/jacques-soddell-cv.html
Paul Fletcher
Local artist Paul explores intersections of narrative and abstraction in experimental short film , animated image, sound performance and installations. He will present TOM COD remixed, a live remix & extension last year's gallery exhibition by Paul with Gary Hillier. Sound Sculpture soundscapes and projected audiovision journeys through strange animated worlds and states of mind. Paul is also responsible for the Hidden Creatures exhibition that has become a regular part of the Bendigo Easter Fair. http://www.digitalcompost.net/