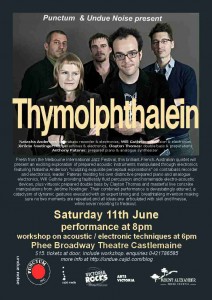 Punctum and Undue Noise present
Thymolphthalein
Saturday 11th June 2011
PERFORMANCE 8 pm Phee Broadway Theatre, Castlemaine
WORKSHOP 6-7 pm Phee Broadway Theatre, Castlemaine
$15 admission, includes both workshop & performance
Fresh from performances at this year's Melbourne International Jazz Festival (including a performance at Melbourne Recital Hall and as support for German "krautrock" masters Faust )
Natasha Anderson: contrabass recorder and electronics
Will Guthrie: percussion and electronics
Jérôme Noetinger: tape machines and electronics
Clayton Thomas: double bass and preparations
Anthony Pateras: prepared piano and analogue synthesizer
A key ingredient in disappearing ink, THYMOLPHTHALEIN describes the working method of this brilliant French-Australian quintet formed for the SWR2 New Jazz Meeting in 2009.
Leader Anthony Pateras conceived a detailed hour long structural premise for the group's first tour in 2009, creating a masterful pastiche of richly dynamic, timbrally devastating explorations for electro-acoustic ensemble, melded by his own distinctive prepared piano and analogue electronics.
Natasha Anderson combines buzzing slabs of electro-acoustic sound with fractured acoustic gestures, sculpting exquisite perceptual explorations with recorders and electronics, producing a poetic and uncanny otherness.
Will Guthrie expertly fuses the drumkit with an array of homemade electro-acoustic devices to produce a fluid cataclysm of sonic richness, melded by his searing technical prowess and faultless ear.
Jérôme Noetinger is THE live concréte maestro, electro-acoustically manipulating his bandmates with expert timing and breathtaking invention, scrambling proceedings with the occasional ring-modulated depth charge.
Clayton Thomas' thoughtful and virtuosic prepared double bass playing has taken Europe by storm since moving there from Sydney in 2007 – part groove cannon, part kinetic sculpture, all parts BAD bass skills.
"Their combined performance is devastatingly attuned, a cataclysm of dynamic gestures executed with an expert timing and breathtaking invention making sure no two moments are repeated and all ideas are articulated with skill and finesse, while never resorting to freakout." – BOOMKAT
WORKSHOP at 6pm
There will be a workshop in which the musicians will demonstrate their unique acoustic / electric interactions, including preparations of their acoustic instruments and integration with electronics & computers. A unique opportunity to not only hear their innovative music, but also to understand their unique interactive processes.
==========
Presented by Punctum & Undue Noise with assistance from Arts Victoria (Victoria Rocks), Mt Alexander Shire, cajid media