undue noise
experimental music in central victoria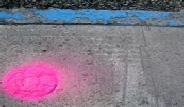 undue noise at the ICU
presented by Punctum and undue noise
saturday may 22 8pm
ICU, 1 Halford St, Castlemaine
Lizzie Pogson
Lizzie Pogson (Trentham) is currently undertaking Honours in Sound Art at RMIT in Melbourne to develop her interest in sound and technology. Her recent commitments have included composing for the Melbourne International Arts Festival, performing with Philip Samartzis as part of the JOLT festival at Westspace Gallery and most recently composing a piece for the group show 'Magnetic Traces' which highlighted Australian & French sound artists (she has a track on the newly released Magnetic Traces CD). Her work presented here contains field recordings and synthesised sounds in which the borders between sounds are ambiguous and the listener questions their perception of reality. When she's not constructing new music, she's reviving old music, playing baroque violin with orchestras around Australia.
Paul Fletcher - Sonic Island
Bendigo-based animator's latest film project is Sonic Island, which he will present as a live video and sound improvisation to coincide with the opening of his exhibition at Allan's Walk Artist Run Space in Bendigo.. An island made of sound. An island as a metaphor for a state of isolation . An isolated state buffeted and caressed by gentle waves.
Miles Bennett – Old Man New World
Miles Bennett & Natascha Stellmach's exploration of the new as seen through ageing eyes was commissioned by ACMI for their Remembrance installation in 2003 .Miles, now working in Castlemaine, and Simon Howard (Maldon) will improvise a live soundtrack to this silent film.
Simon Howard – Timeshifts
Simons latest film explores the transporting power of memories and the memory inducing powers of transportation, featuring excerpts from Andrew Pekler's recorded live performance from LA9 at the ICU in 2008. video and audio Simon Howard music Andrew Pekler.